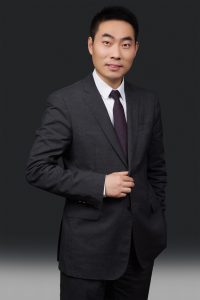 Mr. Spacer Jianqi Fang, President of the Association of Family Offices in Hong Kong.
He graduated from Beihang University, with the Bachelor's Degree of Engineering and the Master's Degree of Administration. He is a pioneer in China's wealth institutions, private banks, family offices and overseas services. He served as Vice President of Zhongzhi Wealth Holdings and Chairman of Zhongzhi Wealth Preservation Group, Chairman of Hang Tang Wealth (Hong Kong), Founding Partner of Hang Tang Wealth, Head of the Investment Advisors Team of China CITIC Bank, the member of the Preparatory Team of the Private Banking of China CITIC Bank Headquarters, and Chief Delegate at Private Banking Business Line, Private Equity Club of China CITIC Group.
He researched, developed, and managed the 1st Private Banking Exclusive Product in China (2007), the 1st Discretionary Account of the Family Asset Management (2009), presided over the establishment of the 1st private banking dynamic wealth management system (2010), and played the instrumental role in designing and accomplishing the "CITIC 50" fund. He led the team to organize, establish, and operate the system of clientele, the research system, and the data system, all of which serve the groups of more than 100,000 high-net-worth individuals with more than CNY 500 billion of asset under allocation (2011-2015).
Mr. Fang personally and fully experienced the entire process from non-existence to existence of the industry of private wealth in China, and has a relatively deep insight into the financial & wealth market, Chinese wealthy groups and the current industry transformation. He has worked cooperatively and closely with his peers in North America, Europe and the Asia-Pacific Region, and has been highly valued by his international peers. He is a planning expert for many influential global wealth reports and a think tank member in the wealth investment fields of many local governments.
Mr. Fang was also one of the earliest promoters of private wealth education as well as popularization of wealth concepts. In 2005, he was invited to give lectures monthly in "the Forum of the Capital Library of China" of the Capital Library of China; he was a consultant of Tsinghua University Wealth Management Association; and he has been invited to give lectures in more than ten universities such as Tsinghua University / Renmin University of China / Central University of Finance and Economics, and has participated in designing the reform of the related curricula in some universities. He once won the award of the Most Popular Lecturer of Forbes China 2018.